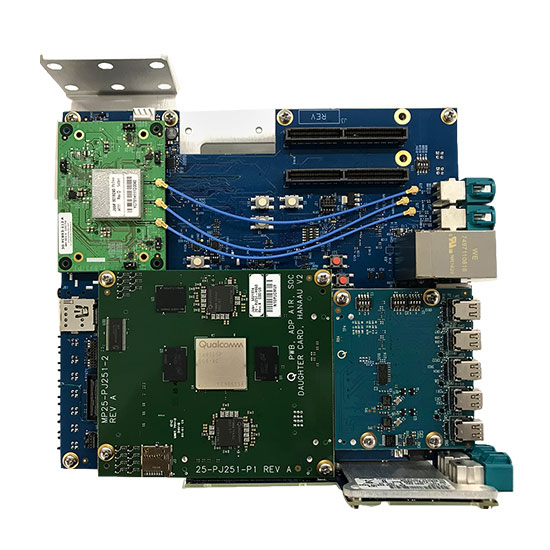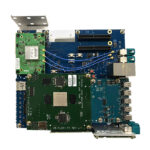 SA8155P Automotive Development Platform
To help automakers bring highly differentiated and customizable in-car experiences to all tiers, the Qualcomm® Snapdragon™ automotive development platform (ADP) based on the Qualcomm® Snapdragon™ SA8155P processor features is integrated with heterogeneous computing, high-performance artificial intelligence (AI) capabilities, and scalability with a unified software framework. It supports higher levels of computing and intelligence needed for advanced capabilities featured in next generation vehicles, including highly intuitive AI experiences for in-car virtual assistance, natural interactions between the vehicle and driver, contextual safety use cases, immersive graphics, multimedia, computer vision, premium audio, advanced wireless technologies, extraordinary camera capabilities, entertainment, and more.
The SA8155P Snapdragon™ processor is armed with the best of the proven heterogeneous compute technologies, including the multi-core Qualcomm AI Engine, Qualcomm Spectra Image Signal Processor (ISP), fourth-generation Qualcomm Kryo Central Processing Unit (CPU), Qualcomm Hexagon Processor, sixth-generation Qualcomm Adreno Visual Subsystem, and more. Essentially, these technologies inside the platform are designed to deliver immersive graphics, multimedia, computer vision and artificial intelligence capabilities. The new platform also offer comprehensive software support for Android, LINUX, QNX, Greenhills, and other high-level and real-time operating systems individually or in multiple combinations enabled by industry-leading virtualization SW architecture — providing flexible and scalable software solutions to support engine control unit (ECU) consolidation, and diverse multi-display app rich ecosystems and novel and intuitive experiences.
The Snapdragon SA8155P Automotive Development Platform Offers Many Advantages:
High performance computing with AI is enabling new intuitive vehicle experiences
New AI personalized experiences- using artificial intelligence and computer vision
Contextual safety – more computer vision, camera and AI workloads
Stunning visual & audio - more displays & speakers, and multi-mode machine interfaces using AI
Heterogeneous SoC architecture with virtualization is addressing vehicle domain consolidation
Convergence - instrument cluster, infotainment, intelligent cameras & driver monitoring
Multi-OS architecture – Linux, QNX, Android, Integrity
High concurrency- Advanced Concurrent Operations
High performance/concurrency-Partitioning algorithms across heterogeneous engines for more work to be done per clock cycle
Power efficiency-Matching each algorithm to appropriate processing engine to do more at lower power
Lower cost-Integrated solution, reducing the number of components and minimizing the need for wiring and cooling systems
Real-time support-Hypervisor support and customized engines to meet latency-critical requirements
Scalability with unified software framework is delivering rich in-vehicle experiences to all tiers
Scalable, module architecture – Addressing all tiers
Unified software framework – with highly differentiated features
Feature
Description

CPU

+ Custom 64-bit Kryo octa-core CPU
+ 7nm process for faster peak performance

GPU

+ Adreno 640 GPU
+ 1.1 TFLOPS OpenGL ES 3.1, Vulcan Qualcomm® FlexRenderTM Technology, Binning Architecture, HW
Virtualization, Context Separation

DSP

+ Qualcomm® Hexagon™ 696 DSP with Hexagon Vector eXtensions
+ Large SIMD extensions with 1024 bit SIMD * 4 vector slot VLIW
+ Power optimized solution for Vision and neural processing based ADAS features

Display

+ Qualcomm Spectra™ ISP 380 for image recognition, and face detection
+ Up to 4K resolution supporting multiple touchscreen displays
+ 1x DP  Native DP out from SoC
+ 2x DP  DSI to DP bridge

Memory & Storage

+ 2 × 32 LPDDR4X with ECC
+ 1x UFS3.0 gear4 2 Lane

Cameras and sensors

+ Support for up to 8 simultaneous camera sensor inputs

Security

+ Qualcomm® SecureMSM™ foundation
+ Qualcomm® Snapdragon™ Smart Protect
+ TrustZone, DRM, Deep learning based

Connectivity

+ Fully integrated chipset solution with QCA6574 supporting 2-stream 11ac Wi-Fi

Multimedia

+ SA8155P audio and video codecs in hardware including HEVC, VP9 DVR capability with H.265 encode
+ 4K Encode and Decode
+ Multiple 4K displays, up to 3 simultaneous displays
Specifications and features are subject to change without notice. Qualcomm Adreno, Qualcomm AI Engine, Qualcomm Hexagon, Qualcomm Kryo, Qualcomm Snapdragon, and Qualcomm Spectra are products of Qualcomm Technologies, Inc. and/or its subsidiaries.
Feature
Description
Detail

Size

7.5 x 7.0 x 2.0 [Inch]
Length width height

Power

+6 V to +20V
+12 VDC Typical
Protection: Over / Under Voltage, Over Current, Reverse Polarity, Load Dump

SoC

SA8155P SoC
23 mm × 23 mm × 2.42 mm FCBGA989 package

PMIC

2xPMMXXXX AU
-

Memory

LPDDR4X:2x4GByte
Soldered down on SoC Card JEDEC STD Footprint.

Storage

UFS: 128 GBytes
SD: uSD Connector
SIM: Dual SIM Socket for UIM
SIM: Dual SIM Socket for UIM

USB

1x USB2.0, 1x USB3.1
All USB interfaces brought out to USB Type A connectors

PCIe

1x PCIe Gen3 x1 lane,
1x PCIe Gen3 x2 lane,
All PCIe lanes pinned out to a custom board-to-board connector. One PCIe Gen3 x
1 lane routed to Wi-Fi module.

Video output

2x DSI x 4 lane, 1x DP
All DSI ports have bridge-chip to DP

Video input

4x CSI x 4 lane
Supports 8 cameras via dual GMSL to CSI Deserializer

Audio

6x Class D Amplifier Analog OUT
4x MIC IN
3x LINE IN
2x A2B
NXP Mercury

Broadcast radio tuner

AM / FM
NXP Mercury

Wired networking

1x Gigabit Ethernet w/EAVB
RGMII w/ PHY

Wireless networking

Wi-Fi
QCA6574 or QCA6595 or QCA6696

Sensors

Sensors
-