On the registration page, click Here to register immediately. The registration interface is shown below. Complete the registration information according to the requirements. Click [Register Immediately] to complete registration. Upon completion of registration, you can login to the website.
How to change/reset your password?
Click Here to reset your password. Enter your website user account or registration email account and click the [Reset Password] at the lower right corner, then the system will send a link for resetting password to your registration email account. Click the link in your email account, enter a new password, and click [Save] to complete password resetting. Refer to the screenshot below:
Click Here to enter Help Center. Five help channels are available as follows:
1.You can contact the online customer service through [Online Help] to obtain help on using the website;
2.You can find related issues in [FAQ] to obtain help;
3.Customers who have already purchased our products can submit related technical questions through [Redmine];
4.You can discuss with friends all over the world in [Forum];
5.You can submit other questions through [Online Form].
How to obtain product documents?
You can see our document list under the [Documents] tab on the product details page. Clicking the corresponding document link will enable you to view the document.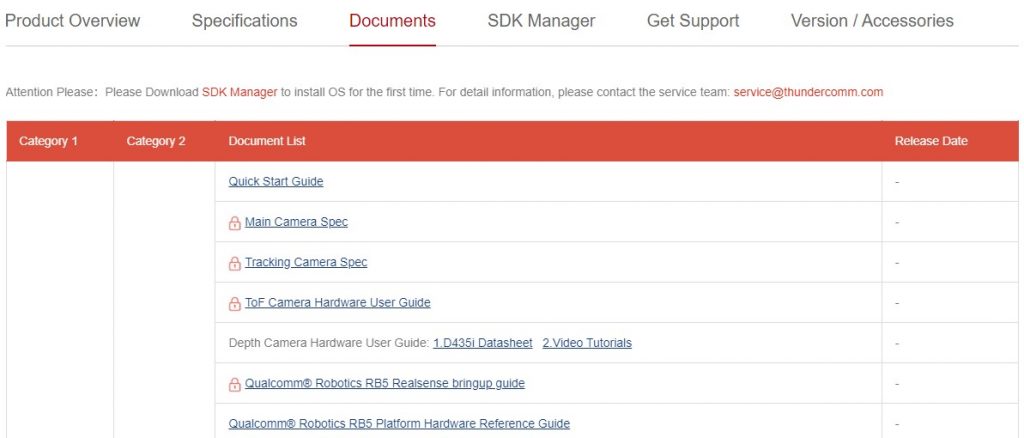 Our documents are classified into "Public" and "Private". To view "Public" documents, you can click the document link in the document list. Clicking "Private" documents will direct you to the [Documentation System] for permission application. We will notify you through a mail, once your permission application is approved. Now, you can login with the account which you applied for to view the documents.
NOTE: For the same product, you only need to apply once.
How to purchase our products?
Click [Enquiry] and complete the inquiry form on the product details page. Upon submission of the form, you will be contacted by our sales team to know your request and help you assess the extent to which our products match your request. If you have learned a lot about our products, you can click the purchase link on the page to purchase online after submitting the inquiry form.
How to obtain product or document updates?
Product Updates:On the product details page, click [Subscribe] to subscribe related product information. We will remind you via emails in case of any update of the product.
Document updates: No subscription is required for document updates. After you obtain document permissions, when our documents are updated, we will send you a document update notification through the document system.
How to query logistics status?
This website does not support logistics status query. You can track the logistics status or your purchased product through your purchase channel: Amazon or Taobao.
1.Warranty period of Development Kit (including PCBA and complete set) and its accessories: within one month from the date of customer acceptance.
*Customer acceptance date: within five working days from the date of customer receiving. Overdue no acceptance will be qualified as default acceptance.
2.Non warranty:
2.1 There is no purchase invoice, or it cannot prove that the product is within the warranty period.
2.2 Damage caused by unauthorized maintenance and disassembly.
2.3 Damage caused by ROOT, improper software installation, etc.
2.4 Damage caused by force majeure such as floods, fires, earthquakes, etc.
2.5 Damage caused by failure in utilization and maintenance of the product in accordance with the requirements of the product instruction manual.
2.6 Man-made damage caused by customer improper use (such as falling, squeezing, immersion, collision, electric shock, etc.)
2.7 Malfunction caused by the use of non-original accessories.