Thundercomm Receives Deutsche Telekom Approvals of Snapdragon X62 5G Modem-RF System Based T62 SOM
Nuremberg, March 14, 2023- Thundercomm, a leading global supplier of smart Internet of Things (IoT) modules, announced today that its new-generation of 5G cellular module the TurboX T62G-EA has been certified by Deutsche Telekom, leading carrier in Europe. Being the industry's leading cellular module, TurboX T62G-EA SOM is based on the innovative Snapdragon® X62 5G Modem-RF System, has already achieved both regulatory CE and KC certification for Europe and Korean, and carrier approvals of Deutsche Telekom and KT. Snapdragon X62 is designed to extend 5G in more applications, including IoT. TurboX T62G-EA enables customers to immediately deploy into a diverse range of high end IoT devices across Europe and Korea, such as MIFI, gateway/CPE/routers, high resolution vide transmission, online entertainment, robotics, AR/VRs, remote control/drones etc.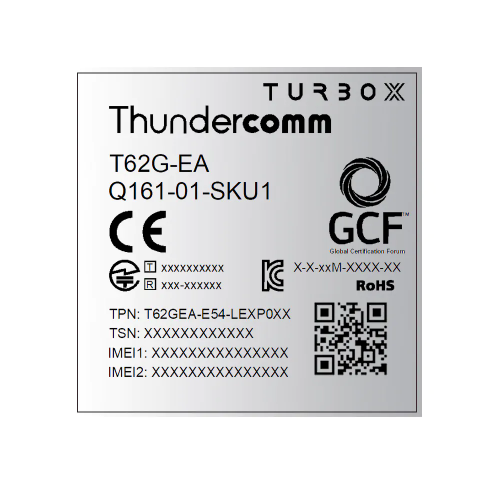 Targeting European and Asian markets, the T62G-EA SOM is a highly-integrated global 5G Sub-6GHz, supporting both SA and NSA modes, LTE and WCDMA bands. With footprint of 42mm x 45mm x 2.65mm, T62G-EA provides a plentiful peripheral interface such as UART/USB/I2C/I2S/PCI-e etc. MIFI and CPE reference design and development kits are available based on T62G-EA, aiming to help customers shorten the time to market.
Besides working with external hosts with different operating systems, Windows, Linux Ubuntu, Android etc. T62G-EA also supports comprehensive SDK which helps customers to work in Open CPU way, This is also part of turnkey software kits that offer end customers the best development experience on top of hardware functionalities.
T62G-EA SOM is one form factor of the T62 SOM series. The other variant is T62M-EA, which supports 5G Sub-6GHz/4G/3G and targets for laptop, notebook, CPE and router applications, will be available for Japanese and European markets soon.
"Thundercomm is continuously investing in 5G, as we believe it's an essential part of connected world, where we see the increasing numbers and requirement of 5G-capable devices," said Hiro Cai, CEO at Thundercomm. " Thundercomm will work closely with global telecom operators, leveraging our expertise in 5G CPE design and performance tunning, to meet the requirements of global customers."
About Thundercomm
Thundercomm, a joint venture between Thunder Software Technology Co., Ltd and Qualcomm (China) Holding Co. Ltd., a subsidiary of Qualcomm Technologies, Inc., was established to accelerate innovation in the Internet of Things and automotive industry, providing one-stop solutions powered by Qualcomm Technologies. Through its capabilities in operating systems including Android, Linux, and others, abroad software and on-device AI technology portfolio, and a global sales and support network, Thundercomm is a valuable and trusted partner to global customers aiming to build high-quality, next-generation products and shorten time-to-commercialization. Learn more at www.thundercomm.com
Snapdragon is a trademark or registered trademark of Qualcomm Incorporated. Snapdragon branded products are products of Qualcomm Technologies, Inc. and/or its subsidiaries. Qualcomm patented technologies are licensed by Qualcomm Incorporated.